Hex FRVR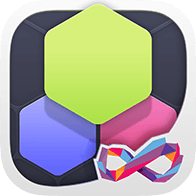 Genre: Puzzle Game / Hexagon / Puzzle
Play the best free Hexagon Puzzle on your Computer, Tablet, Phone, iPad, iPhone, and iPod.
Hex FRVR is an easy to understand yet fun to master puzzle game. The unique hexagon puzzle board is a fun challenge for even the advanced puzzle addict.
Create and destroy full lines on the screen in any of the primary three directions by dragging and dropping blocks to the screen and get amazing combo bonuses by destroying multiple lines at the same time.
No time limit! A fun and relaxing puzzle game.
Hex FRVR features
Beautiful vibrant graphics.
High DPI and Retina support.
One click or tab play.
Smooth animations.
Great sound effects and music.
Works great on mobile devices with full iOS, Android and Windows Phone support.
No need to install anything, Hex FRVR is HTML5 that works without Flash or Java.
Hex is an easy to play hexagon puzzle game where your goal is to get the highest score possible!
Please enable JavaScript to play now!
More information
More great games
More platforms
Always get the greatest new games on frvr.com